We insist on providing safe, effective, and eco-friendly skincare products. Thus, we follow the ISO 22716 and GMP to build the professional factory and establish advanced laboratories.

Besides, we own exclusive formula as well as startup skincare research and development center, which can design and produce four diversified cosmetic bases including liquids, oil, emulsion and ointment. To assure our clients can rest assured that we produce and pack all products in the Class 10 Clean Room and use scientific instruments to do product inspection. We pay attention to all the details of processing and control the quality of products to provide quality products to our clients.
Focusing on ODM and OEM markets, we have a professional R&D team to provide flexible formula and products design along with strict quality control. In addition, our professional team also can offer comprehensive service from selected formula, product safety, customized packaging design according to the requests from our clients. Winz continually develop the newest ingredients and technology in collaboration with many domestic and foreign academic research units to make sure that we can provide the best quality products and satisfy your needs.
Collaboration between Industry and School
National Taiwan University of Science and Technology
Department of Chemical Engineering
Antibacterial cleaning products with skin friendly and non toxic
International Certification
USA
USA FDA The Food and Drug Administration is responsible for protecting the public health by ensuring the safety, efficacy, and security of human and veterinary drugs, biological products, and medical devices; and by ensuring the safety of our nation's food supply, cosmetics, and products that emit radiation. If FDA grants an approval, it means the agency has determined that the benefits of the product outweigh the known risks for the intended use. And it guarantees a high-quality level, which is critical for medical devices.
E. coli >99.9%
Staphylococcus aureus >99.9%


UG/2019/C0411

P. aeruginosa 99.5%


UG/2020/30157

Proteus mirabilis >99.9%


UG/2020/30158
MRSA >99.9%


UG_2020_40499

Aspergillus niger 99.1%


UG/2020/70849

Candida albicans >99.9%


UG_2020_40500

Salmonella enterica >99.9%


UG_2020_40502
Chang Gung University
Influenza A virus subtype H1N1>99.9%


1090401-01

Influenza A virus subtype H3N2>99.9%


1090401-02

Influenza B virus>99.9%


1090301-01

EV71 >99.9%


1090401-03
Legionella pneumophila >99.9%


M61-200400332EN

Streptococcus pneumoniae >99.9%


M61-200400333EN

Klebsiella pneumoniae >99.9%


M61-200400334EN
Plastics Industry Development Center
Non-cytotoxic to adult adipose-derived stem cells


109A011-D210204-FRC(GLP)

Non-cytotoxic to Wharton´s Jelly Derived Mesenchymal Stromal Cells


109A011-D210307-FRC(GLP)

No toxic reaction after Acute oral toxicity study


109A011-D210205-FRC(GLP)

Non-cytotoxic after In vitro Cytotoxicity test


109A011-D210252-FRC(GLP)
Dun & Bradstreet
Patent
Antibacterial Zipper Bag for Baby
Sealed air zipper bag which was made from PLA and single environmentally friendly materials with antiviral additive. It's environment friendly and can be used for baby and child's hygiene care.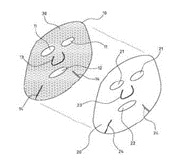 The Structure of Facial Mask
The structure of this facial mask sheet is designed to create a tight seal around the face and composed of two different functions layers.
The first patented layer structure sheet that owns breathable property that can protects rapid evaporation of active ingredients and prevents essence loss, and the second layer structure that moisture for skin and delivers nutrient and active ingredients deep into skin. It gives rich sense of use and increase absorptivity of active ingredients to improve the effectiveness of moisture, lift, anti-wrinkle , whitening of skin care significantly.